"Открий превода!" – интерактивни игри
Езиковите умения са необходимост и право на всеки – това е едно от основните послания на Европейския ден на езиците.
Целите на Деня включват повишаване на осведомеността за:
богатото разнообразие на езици в Европа, което трябва да се съхранява и насърчава;
нуждата да се разшири наборът от езици, които се изучават, т.е. да се включат и по-малко разпространени езици, което да стимулира многоезичността;
нуждата да се развие степен на отлично владеене на два или повече езика, за да може хората пълноценно да взимат участие в контекста на демократичното гражданство в Европа.
… Комитетът на министрите реши да провъзгласи Европейски ден на езиците, който да се отбелязва всяка година на 26 септември. Комитетът препоръча събитието да бъде организирано по децентрализиран и гъвкав начин според желанията и ресурсите на страните членки, което ще им помогне по-добре да определят собствения си подход към събитието. Съветът на Европа от своя страна предлага всяка година обща тема. Комитетът от Министри покани Европейския Съюз да се присъедини към тази инициатива.
Palindromes
Palindromes – words and sentences that read the same backwards – have been popular since ancient times. The Germans have even come up with a palindromic word –Eibohphobie –that means a fear of palindromes.
Albanian
Seç i numëronin orë mu Niçes.
They were counting Nietzsche's hours.
Na u rrit Emi, qimet i rruan.
Emi has grown, shaves hair.
Azerbaijan
Ey Babək, kəbab ye!
Hey Babekh, eat kebab!
Bosnian
Mače jede ječam.
The kitten is eating barley.
Udovica baci vodu.
The widow tossed the water.
Anja sebe sanja.
Anja dreams of herself.
Idu ljudi.
The people go.
Bulgarian
Бял хляб (Bjal hljab)
White bread
Catalan
Català a l'atac!
Catalan attacks!
No sap pas on..
S/He does not know where.
Croatian
Ana voli Milovana.
Ana loves Milovan.
Potop
Flood
Ratar
Farmer
Maja sa Nedom ode na sajam.
Maja went with Neda to the fair.
Czech
Jelenovi pivo nelej.
Do not pour beer to a deer.
Kuna nese nanuk.
A marten is carrying ice cream.
Danish
Selmas lakserøde garagedøre skal samles
Selma's salmon red garage doors must be assembled
Dutch
Koortsmeetsysteemstrook
Thermometer (for measuring fevers)
Baas neem een Saab!
Boss, buy a Saab!
English
Was it Eliot's toilet I saw?
Able was I ere I saw Elba.
Never odd or even
Was it a cat I saw?
Do geese see God?
A man, a plan, a canal, Panama
Go hang a salami, I'm a lasagna hog.
Murder for a jar of red rum
Rats live on no evil star.
Rise to vote, sir.
Madam, I'm Adam.
Neil, an alien?
Dennis sinned.
Race car
Estonian
Kuulilennuteetunneliluuk
The hatch of the tunnel of the bullet's flight path (trajectory)
Aias sadas saia.
It was raining bread in the garden.
Finnish
Neulo taas niin saat oluen.
Knit again, so that you will get a beer.
Saippuakivikauppias
A soapstone seller
Saippuakuppinippukauppias
A soap cup trader
Solutomaattimittaamotulos
The result from a measurement laboratory for tomatoes
Innostunut sonni
Enthusiastic bull
French
Et la marine va, papa, venir à Malte.
And the Navy, Dad, will come to Malta.
Esope reste ici et se repose.
Aesop remains here and rests.
Tu l'as trop écrasé, César, ce Port Salut!
You mashed it too much, Cesar, this Port Salut (a kind of french cheese)!
Eh ca va la vache!
Eh, how are you, the cow!
Elu par cette crapule
Elected by this villain
German
Eibohphobie
fear of palindromes
Trug Tim eine so helle Hose nie mit Gurt?
Has Tim never worn such light-coloured pants with a belt?
Sei fein, nie fies.
Be fine/nice, never be nasty.
Erika feuert nur untreue Fakire.
Erika only fires unfaithful fakirs.
O Genie, der Herr ehre dein Ego!
O genius, the Lord shall honour your ego!
Greek
Nipson anomemata me monan opsin.
Wash off my sins, not only my face (written on the edge of a well or a font in Constantinople, where ps is ψ).
Σοφά ται και μη, γη μια και τάφος.
It makes no difference if you speak wisely or not, we walk on one earth and in the same earth we will be buried.
Νόμον, ο κοινός, έχε σον οικονόμον.
Have the law of the state, law at your home.
Hungarian
Géza, kék az ég.
Géza, the sky is blue.
Indul a görög aludni.
The Greek goes to sleep.
Italian
O mordo tua nuora o aro un autodromo.
Either I bite your daughter-in-law or I plough a racetrack.
I topi non avevano nipoti.
The mice had no grandchildren.
Irish
A Nóinín, níl an rí anocht ar Ráth Conair, ná linn in Iona.
Daisy, the king is neither on Conair's fort tonight, nor with us in Iona.
Latin
In girum imus nocte et consumimur igni.
We enter the circle after dark and are consumed by fire.
Roma tibi subito motibus ibit amor.
In Rome love will come to you suddenly.
Latvian
Sapals arī tad ēda tīras lapas.
Even then the chub ate pure leaves.
Lithuanian
Sedek užu kedes.
Sit behind the chair.
Norwegian
Regninger
Bills
Agnes i senga
Agnes in bed
Grav ned den varg
Dig down that wolf
Polish
Ada, panna pocalowana, wola: co pan napada?
Ada, a kissed girl, exclaims: why are you attacking me, Sir?
Moze jutro ta dama da tortu jezom.
Maybe tomorrow that lady will give a cake to the hedgehogs.
Kobyla ma maly bok
The mare has a small side
Elf ukladal kufle
An elf arranged mugs
Ikar łapał raki
Icarus caught crayfishes
Portuguese
Socorram-me, subi no ônibus em Marrocos
Help me, I took a bus in Morocco
A base do teto desaba
The base of the ceiling collapses
O lobo ama o bolo
The wolf loves the cake
Romanian
Elevele
The students (feminine)
Atașata
The attached (feminine)
Ele fac cafele
They (feminine) make coffee
Ene purta patru pene
Ene was wearing four feathers
Ai rămas acasă, Maria?

Did you stay at home, Maria?

O ramă maro

A brown frame

El o să facă fasole

He is going to cook beans

Aerisirea

Ventilation
Russian
А роза упала на лапу Азора. (A roza upala na lapu Azora.)
A rose fell on Azor's paw.
Serbian
Ana voli Milovana.
Ana is in love with Milovan.
Sir ima miris.
Cheese has a smell.
Slovak
Matej je tam.
Matej is there.
Na rabína gáni baran.
A mutton gazes on a rabbi.
V elipse spí lev.
A lyon sleeps in an ellipse.
Jeleňovi pivo nelej.
Don't serve beer to a deer.
Kobyla má malý bok.
The mare has a small hip.
Slovene
V elipsi spi lev.
In an ellipse there sleeps a lion.
Perica reže raci rep.
A washerwoman is cutting a duck's tail.
Spanish
Dábale arroz a la zorra el abad.
The abbot gave rice to the vixen.
Ligar es ser ágil.
Flirting is agile.
Ana lleva avellana.
Ana takes a nut.
Reconocer
Recognise
Luz azul
Blue light
Sobornos son robos.
Bribes are robberies.
Amor a Roma.
Love to Rome.
Somos o no somos.
Either we are, or we are not.
Ojo rojo
Red eye
Swedish
Ni talar bra latin
You speak good latin
Agnes i senga
Agnes in bed
Naturrutan
Nature box
Turkish
Ilaç iç, Ali.
Drink the medicine, Ali.
Anastas, mum satsana?
Anastas, why don't you sell candles?
At, sahibi gibi hasta
Horse is ill like its owner
Long word
The Germans are renowned for their love of long words, but they are not the only ones who like to create complex compound words as nouns. The Ancient Greek playwright Aristophanes coined the 183 lettered
lopado-temacho-selacho-galeo-kranio-leipsano-drim-hupotrimmatosilphio-karabo-melito-katakechumeno-kichl-epikossuphophatto-peristeralektruon-opto-kephallio-kigklo-peleio-lagoio-siraio-baphe-traganopterugon
meaning a dish compounded of all kinds of dainties, fish, fowl and sauces.
BULGARIAN
neprotivokonstitutsionstvuvatelstvuvayte
(40 letters) something against constitution
CATALAN
anticonstitucionalment
(22 letters) unconstitutionally
CROATIAN
prijestolonaslijednikovica
(26 letters) the wife of a heir to the throne
CZECH
nejneobhospodarovávatelnejšími
(30 letters) the less farmed
DANISH
Speciallægepraksisplanlægningsstabiliseringsperiode
(52 letters) period where a specialist doctors planning of the practice is stabilized
DUTCH
kindercarnavalsoptochtvoorbereidingswerkzaamheden
(48 letters) preparation activities for a children's carnival procession
ENGLISH
As for the English language, there are somewhat fanciful claims for extremely long words. However, more realistically here are the following in descending length:
pneumonoultramicroscopicsilicovolcanoconiosis
(45 letters) the longest word in a major dictionary, a technical word for a lung disease created by silica dust inhalation
supercalifragilisticexpialidocious
(34 letters) from the Mary Poppins film and musical with a fanciful defintion
hippopotomonstrosesquipedalianism
(33 letters) which means the love of long words
pseudopseudohypoparathyroidism
(30 letters) the longest non-coined word in a major dictionary for a specific inherited medical disorder
floccinaucinihilipilification
(29 letters coined in 1741) meaning the categorizing of something that is useless or trivial (the longest unchallenged non-technical word)
antidisestablishmentarianism
(28 letters) the longest non-coined and non-technical word
ESTONIAN
raudteeülesõidukoht
(19 letters) train crossing point
FINNISH
lentokonesuihkuturbiinimoottoriapumekaanikkoaliupseerioppilas
(61 letters) technical warrant officer trainee specialized in aircraft jet engines
käsipyyherullajärjestelmä
(25 letters) an automatic towel system for drying your hands
peruspalveluliikelaitoskuntayhtymä
(34 letters) a municipality providing basic services
FRENCH
anticonstitutionnellement
(25 letters) unconstitutionally
GERMAN
Grundstücksverkehrsgenehmigungszuständigkeitsübertragungsverordnung
(67 letters) a regulation about competences
GREEK
υποδηματοεπιδιορθωτήριον
(24 letters) by mending shoes
ωτορινολαρυγγολόγος
(19 letters) otolaryngologist (throat-ear-nose specialist)
ακτινοχρυσοφαιδροβροντολαμπροφεγγοφωτοστόλιστος
(47 letters) dressed in golden-shining, thundering and incandescent clothes
σκουληκομυρμηγκότρυπα
(21 letters) an anthill
HUNGARIAN
megszentségtelenithetetlenségeskedéseltekért
(44 letters) "for your unprofaneable actions"
legmegvesztegethetetlenebbek
(28 letters) the least corruptible ones
ITALIAN
precipitevolissimevolmente
(26 letters) to do something in a hurry
psiconeuroendocrinoimmunologia
(30 letters) a discipline that deals with the relationship between the functioning of the nervous system, the immune system and the endocrine system
LATIN
honorificabilitudinitatibus
(27 letters) the state of being able to achieve honours (the longest word in Shakespeare from Love's Labour's Lost)
LATVIAN
pretpulksteņrādītājvirziens
(28 letters) in a counter-clockwise direction
Virsapakšcepure
(15 letters) underneath hat
LITHUANIAN
nebeprisikiškiakopusteliaudavome
(30 letters) we didn't pick rabbit cabbage
POLISH
konstantynopolitańczykowianeczka
(32 letters) a girl living in Constantinople
PORTUGUESE
anticonstitucionalissimamente
(29 letters) unconstitutionally
ROMANIAN
otorinolaringologie
(19 letters) Otorhinolaringology
sternocleidomastoidian
(22 letters) the sternocleidomastoid muscle that is located in the front of the neck
RUSSIAN
тетрагидропиранилциклопентилтетрагидропиридопиридиновые
(55 letters) Chemical substance
SERBIAN
prestolonaslednikovica
(22 letters) wife of the Crown Prince
SLOVENIAN
dialektičnomaterialističen
(26 letters) dialectical materialistic
starocerkvenoslovanšcina
(24 letters) Old Church Slavik Language
SLOVAK
najnevypocítavatelnejší
(23 letters) the most difficult example to calculate
najneobhospodárovatel'nejší
(26 letters) the less farmed
SPANISH
anticonstitucionalmente
(23 letters) unconstitutionally
(21 letters) person who favors or is part of the counter-revolution
SWEDISH
nordvästersjökustartilleriflygspaningssimulatoranläggningsmaterielunderhåll – suppföljningssystemdiskussionsinläggsförberedelsearbeten
(131 letters) north west sea coastal artillery reconnaissance flight simulator facility equipment maintenance follow-up discussion posts preparatory work
TURKISH
Afyonkarahisarlilardanlarmis
(28 letters) They are said to belong to the family that came from Afyonkarahisar
Muvaffakiyetsizlestiricilestiriveremeyebileceklerimizdenmissinizcesine
(70 letters) As if you would be from those we can not easily/quickly make a maker of unsuccessful ones
çekostravakyalılardanmısınızsiz?
(31 letters) Are you from çekostravakyalı?
WELSH
Llanfairpwllgwyngyllgogerychwyrndrobwllllantysiliogogogoch
Idioms of the world
LIKE FATHER LIKE SON
Крушата не пада по-далеч от дървото. (Krushata ne pada po-dalech ot darvoto.) (Bulgarian)
The pear doesn't fall far from the tree.
De tal riu, tal aigua. (Catalan)
Like river like water.
Æblet falder ikke langt fra stammen. (Danish)
The apple doesn't fall far from the trunk.
Der Apfel fällt nicht weit vom Stamm. (German)
The apple does not fall down far from the tree.
Deda naxe, mama naxe, shvili ise gamonaxe. (Georgian)
Like mother, like father is a child.
Rogoric eri, iseti beri. (Georgian)
Like nation, like monk.
Kata mana kata kyrh kata gio kai thygatera. (Greek)
Like mother, like father, like son and daughter.
Nem esik messze az alma a fájától. (Hungarian)
The apple doesn't fall far from the tree.
Obuolys nuo obels netoli rieda. (Lithuanian)
The apple does not roll far from the apple tree.
Bhaz-zokk il-fergha. (Maltese)
As the trunk so the branch.
Niedaleko pada jabłko od jabłoni. (Polish)
The apple does not fall down far from the tree.
Filho de peixe sabe nadar. (Portuguese)
A fish's child knows how to swim.
Așchia nu sare departe de trunchi. (Romanian)
The woodchip doesn't jump far from the trunk.
Каков поп, таков и приход. (Kakov pop takov i prihod.) (Russian)
What the priest is like, so is the church.
Iver ne pada daleko od klade. (Serbian)
The chip doesn't fall far from the block.
Aká matka, taka Katka. (Slovak)
Like mother like Kate.
Jabolko ne pade daleč od drevesa. (Slovenian)
The apple doesn't fall far from the tree.
De tal palo tal astilla. (Spanish)
From such stick comes such splinter.
Äpplet faller inte långt från trädet. (Swedish)
The apple does not fall far from the tree.
Armut dibine düşermiş. (Turkish)
The pear falls right onto its bottom.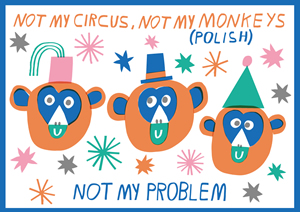 YOU CANNOT MAKE A SILK PURSE OUT OF A SOW'S EAR
Al draagt een aap een gouden ring, het is en blijft een lelijk ding. (Dutch)
Even if the monkey wears a golden ring, it remains an ugly thing.
On ne peut faire d'une buse un épervier. (French)
You can't turn a buzzard / a dolt into a sparrowhawk.
Fare le nozze coi fichi secchi. (Italian)
To do a wedding with dried figs.
I w Paryżu nie zrobią z owsa ryżu. (Polish)
Even in Paris they will not change oat for rice.
Рожденный ползать летать не может. (Rozhdennyj polzat letat ne mozhet.) (Russian)
If you're born to crawl, you can't fly.
Opica zostane opicou, hoci by si na nu zlatú retaz povesil. (Slovak)
Monkey remains monkey even if you hang a golden kettle around its neck.
Aunque la mona se vista de seda, mona es y mona se queda. (Spanish)
Although the monkey-girl wears silk clothes, she is a monkey and remains a monkey.
Corbul în zadar se spală, că negreaţa nu şi-o pierde. (Romanian)
A crow is never the whiter for washing herself often.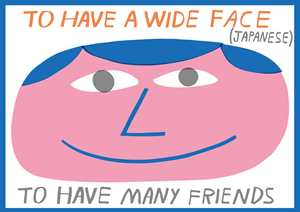 A SANDWICH SHORT OF A PICNIC
Šplouchá mu na maják. (Czech)
It's splashing on his lighthouse.
Ikke at være den skarpeste kniv i skuffen. (Danish)
Not to be the sharpest knife in the drawer.
Hij heeft een klap van de molen gehad. (Dutch)
He got a blow from the windmill.
Avoir une araigneé au plafond. (French)
To have a spider on the ceiling.
Ne pas avoir inventé le fil à couper le beurre. (French)
Not to have invented the wire to cut butter.
Nicht alle Tassen im Schrank haben. (German)
Not to have all the cups in the cupboard.
Non avere tutti i venerdì. (Italian)
To be lacking some Fridays.
Jam ne visi namie. (Lithuanian)
He doesn't have everybody at home.
Tem macaquinhos no sotão. (Portuguese)
He has little monkeys in the attic.
Без царя в голове. (Bez tsarya v golove.) (Russian)
Not having a tsar inside his head.
Lud ko struja (Serbian)
As crazy as electricity
Zostat na ocot (Slovak)
To be left for vinegar
Más loco que un plumero (Spanish)
Crazier than a feather duster
Le falta una marea (Spanish)
He/she has a tide missing.
Adamın tahtası eksik (Turkish)
Some planks are missing from his roof.
Nu are toate țiglele pe casă (Romanian)
He/She doesn't have all the roof tiles on the house.
The lift doesn't reach the top floor (English)
THE POT CALLING THE KETTLE BLACK
Rugala se sova sjenici. (Croatian)
The owl mocked the tit.
C'est l'hôpital qui se moque de la Charité. (French)
The hospital mocks the Charity.
Eipe o gaidaros ton petino kefala. (Greek)
The donkey called the cockerel "dunderhead".
Ein Esel schimpft den anderen Langohr. (German)
A donkey calls the other a rabbit.
Il bue che dice cornuto all'asino. (Italian)
The ox calling the donkey "horned".
Râde hârb de oală spartă. (Romanian)
A broken part of the pot is laughing at the broken pot.
Яйца курицу не учат. (Russian)
Eggs don't teach a chicken
Zabudol vôl, že teľaťom bol. (Slovak)
The ox has forgotten that he had been a calf, too.
Le dijo la sarten al cazo. (Spanish)
As the pan told the pot.
Yavuz hırsız ev sahibini bastırır. (Turkish)
Bold burglar suppresses the landlord.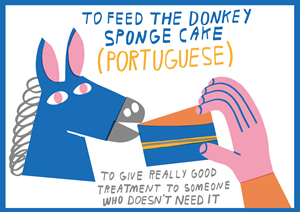 ONCE BITTEN, TWICE SHY
Brændt barn skyr ilden. (Danish)
A burned child shuns the fire.
Ein gebranntes Kind scheut das Feuer. (German)
A burned child shuns the fire.
Opoios kaei me to xilo, fusaei kai ti giaourti. (Greek)
Whoever gets burnt from the porridge, blows on the yogurt, too.
Cão picado por cobra, tem medo de linguiça. (Portuguese)
A dog that has been bitten by a snake fears sausages.
Пуганая ворона куста боится. (puganaya vorona kusta boitsya) (Russian)
A spooked crow is afraid of a bush.
Пуганная ворона собственной тени боится. (puganaya vorona sobstvennoj teni boitsya) (Russian)
A spooked crow is afraid of it's own shadow.
Cine s-a fript cu ciorbă, suflã și în iaurt. (Romanian)
The one who burnt his tongue with soup is going to blow on yoghurt as well.
Ulciorul nu merge de două ori la apă! (Romanian)
You cannot do the same trick twice.
Koho raz had uštipne, aj hlísty sa bojí. (Slovak)
Who has been bitten by a snake is afraid even of a worm.
El gato escaldado del agua fria huye. (Spanish)
The cat that has been scalded runs away from cold water.
Chat échaudé craint l'eau froide. (French)
Scalded cat fears cold water.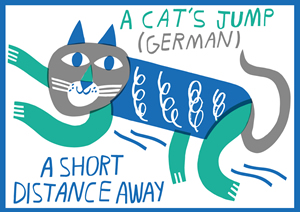 TO CARRY COALS TO NEWCASTLE
Eulen nach Athen tragen (German)
Taking owls to Athens
Vizet hord a Dunába (Hungarian)
Taking water to the Danube
Vendere ghiaccio agli eschimesi (Italian)
Selling ice to the eskimos
A vinde castraveți grãdinarului (Romanian)
Selling cucumbers to the gardener
Yezdit v Tulu so svoim samovarom (Russian)
He's going to Tula taking his own samovar
Echar agua al mar (Spanish)
To throw water into the sea
Llevar naranjas a Valencia (Spanish)
Taking oranges to Valencia
Tereciye tere satma (Turkish)
Don't sell cress to the cress-seller
Wozić drewno do lasu (Polish)
To carry wood to the forest

TO BEAT ABOUT/AROUND THE BUSH
Kiertää kuin kissa kuumaa puuroa. (Finnish)
To pace around hot porridge like a cat.
Y aller par quatre chemins. (French)
To get there by four paths.
Tourner autour du pot. (French)
To move around the pot.
Å gå som katten rundt den varme grøten. (Norwegian)
To walk like a cat around hot porridge.
A umbla cu fofârlica. (Romanian)
Qalking with the lark.
Ходить вокруг да около. (Khoditj vokroog da okolo.) (Russian)
To walk round and about.
Chodit okolo horúcej kaše. (Slovak)
To walk around hot porridge.
Emborrachar la perdiz. (Spanish)
To get the partridge drunk.
Irse por la ramas. (Spanish)
Going along the branches.
TOO MANY COOKS SPOIL THE BROTH
Seul mui à vugulion a vez, e vez falloc'h gouarnet ar saout. (Breton, France)
The more cowherds there are, the worse the cows are looked after.
Puno baba, kilavo dijete. (Croatian)
Many midwives, child will be lazy.
Veel varkens maken de spoeling dun. (Dutch)
Many pigs make the slops sparse.
shvidi dzidzis xelshi bavshvi daikarga. (Georgian)
A child, looked after by seven nannies is lost.
Zu viele Köche verderben den Brei. (German)
Too many cooks ruin the broth.
Opou laloun polla kokoria, argei na xhmerwsei. (Greek)
Where there are too many roosters singing the dawn comes late.
Troppi galli a cantare non fa mai giorno. (Italian)
Too many cocks singing it is never going to dawn.
Tarp dviejų auklių vaikas be galvos. (Lithuanian)
Between two nannies a child leaves without his head.
Gdzie kucharek sześć, tam nie ma co jeść. (Polish)
Six cooks and nothing to eat.
У семи нянек дитя без глазу. (U semi nyanek dyetya byez glaza.) (Russian)
A child, looked after by seven nannies is without one eye.
Horozun çok olduğu yerde sabah geç olur. (Turkish)
Where there are too many roosters, dawn comes late.
Muchas manos en un plato, hacen mucho garabato. (Spanish)
Many hands on a plate draw many doodles.
Copilul cu multe moaşe rămâne cu buricul netăiat. (Romanian)
The child who has many midwives ends with his umbilical cord uncut.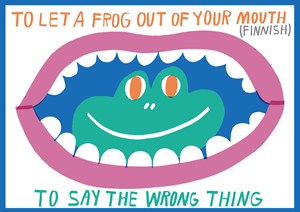 DON'T CRY OVER SPILT MILK
Gviania titze kbena (Georgian)
To bite one's finger is late
Eso után köpönyeg (Hungarian)
Coat after rain
Nu plânge după laptele vărsat (Romanian)
Do not cry over spilt milk
Kusat sebe lokti (Russian)
To bite one's elbows
Po toci zvoniti je prepozno (Slovenian)
It's too late to ring after the hail
Paid â chodi pais ar ôl piso (Welsh)
Don't lift a petticoat after peeing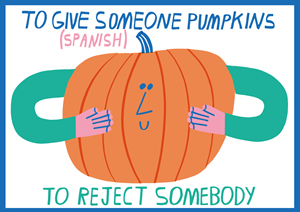 BAD WORKMAN BLAMES HIS TOOLS
На крива ракета космосът й пречи. (Na kriva raketa kosmosat i prechi.) (Bulgarian)
An awry/bad rocket blames the space.
Wenn der Bauer nicht schwimmen kann, liegt es an der Badehose. (German)
If the farmer can't swim, it's due to his swimming trunks.
नाच ना जाने आँगन टेढा. (Naach na jaane anagan thedha.) (Hindi)
One who knows no dance claims that the stage is tilted.
Zlej baletnicy przeszkadza rabek u spódnicy. (Polish)
A poor dancer will be disturbed even by the hem of her skirt.
Plokhomoo tantsoroo i nogi meshayut. (Russian)
A bad dancer's legs get into his way.
El mal escribano le echa la culpa a la pluma. (Spanish)
The poor writer blames the pen.
El cojo le echa la culpa al empedrado. (Spanish)
The limping man blames the pavement.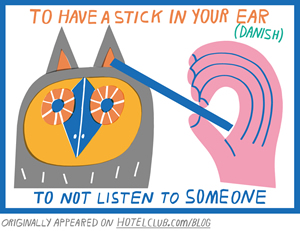 At have en pind i øret (Danish)
To have a stick in our ear (to be drunk)
Avoir un chat dans la gorge (French)
To have a cat in (one's) throat
DON'T COUNT YOUR CHICKENS BEFORE THEY'RE HATCHED
Peshku në det, tigani në zjarr. (Albanian)
Fish in the sea, pan in the stove.
No diguis blat fins que no sigui al sac i ben lligat (Catalan)
Don't say wheat until it's in the sack and it's well tied
Ne spremaj ražanj dok je zec još u šumi (Croatian)
Do not prepare the skewer while the hare is still in the woods
Man skal ikke selge skinnet, før bjørnen er skutt (Danish)
One should not sell the fur before the bear has been shot
Älä nuolaise ennen kuin tipahtaa (Finnish)
Don't start licking it up before it drops on to the table
En nylje karhua, ennen kuin se on kaadettu (Finnish)
I don't skin a bear before it's been felled
Tsitsilebs shemodgomaze itvlian (Georgian)
One should count chickens in autumn
Du sollst den Tag nicht vor dem Abend loben (German)
You shouldn't praise the day before the night.
Mi logariazeis khoris ton xenodokho (Greek)
Don't make counts without the innkeeper
Non dire gatto se non ce l'hai nel sacco (Italian)
Never say 'cat' if you have not got it in your sack
Nesakyk ,,op", neperšokęs balos (Lithuanian)
Don't say hop, before jumping over the marsch
na neroden Petko kapa mu skroile (Macedonian)
they sewed a hat to Peter who is not born yet
Nie dziel skóry na niedźwiedziu (Polish)
Don't share the skin while it's still on the bear
tsiplyat po oseni schitayut (Russian)
one should count chicks in autumn
ne govori gop, poka ne pereskochish (pereprygnesh) (Russian)
Don't say hop until you jumped over
Nu da vrabia din mână pe cioara de pe gard (Romanian)
Do not give away the sparrow in your hand for the crow sitting on the fence
Nehovar hop kým nepreskocíš (Slovak)
Don´t say hop until you jump
Dereyi görmeden paçalari sivama (Turkish)
Do not roll up your trouser-legs before you see the stream.
Mithena pro tou telous makarize (Greek)
Don't pronounce yourself blessed before the end
Nu vinde pielea ursului din pădure (Romanian)
Don't sell the skin of the bear that is still in the forest
Il ne faut jamais vendre la peau de l'ours avant de l'avoir tué (French)
Never sell the fur of the bear before the bear has been killed
IT'S RAINING CATS AND DOGS
Kiša lije k'o iz kabla. (Bosnian)
The rain is pouring like from cable.
ploure a bots i barrals. (Catalan)
To rain wineskins and pitchers.
Padají trakare. (Czech)
It's raining wheelbarrows.
Det regner skomagerdrenge. (Danish)
It's raining shoemakers' apprentices.
Het regent pijpenstelen. (Dutch)
It's raining pipestems.
Il pleut comme une vache qui pisse. (French)
It's raining like a pissing cow.
Il pleut des cordes/des hallebardes. (French)
It is raining ropes/halberds.
Kokispirulad tsvims. (Georgian)
It's raining like from a jug.
Es regnet Bindfäden. (German)
It is raining thread.
Es regnet Schusterbuben. (German)
It is raining young cobblers.
Βρέχει καρεκλοπόδαρα. (Brékhei kareklopódara.) (Greek)
It's raining chair legs.
Ag cur sceanaí greasaí. (Irish)
It's raining shoemakers knife.
Pila kaip iš kibiro. (Lithuanian)
It is pouring like from a bucket.
Está chovendo canivetes. (Portuguese)
It is raining pocket knives.
Plouã cu gãleata. (Romanian)
It's raining with a bucket.
L'yot kak iz vedra. (Russian)
It is pouring like from a bucket.
Prší ako z krhly. (Slovak)
It´s raining like from a watering-can.
Estan lloviendo hasta maridos. (Spanish)
It's almost raining husbands.
Bardaktan boşanırcasına yağıyor. (Turkish)
It is raining as if it is pouring out of a cup.
Mae hi'n bwrw hen wragedd a ffyn. (Welsh)
It's raining old ladies and walking sticks.
AS EASY AS FALLING OFF A LOG
Så let som at klø sig i nakken (Danish)
As easy as scratching the back of your neck
Facile come bere un bicchier d'acqua, facile come andare in bicicletta (Italian)
As easy as drinking a glass of water, as easy as cycling
Lengva, kaip dukart du (Lithuanian)
Easy as two times two
Ușor ca bună ziua (Romanian)
As easy as saying hello
Ežu ponjatno (Russian)
Understandable to a hedgehog
Lahké ako facka (Slovak)
As easy as a slap
Enostavno kot pasulj (Slovenian)
As easy as bean stew
Tereyagindan kil ceker gibi (Turkish)
As if pulling a strand of hair from butter
A piece of cake (English)
Bułka z masłem (Polish)
Bread roll with butter
Simple comme bonjour (French)
As easy as hello
AS THICK AS THIEVES
Kao prst i nokat (Croatian)
Like finger and nail
Kolos kai vraki (Greek)
Like buttocks and underwear
Kuin kaksi marjaa (Finnish)
Like two berries
S'entendre comme cul et chemise (French)
To get along like one's buttocks and shirt
Uni comme les doigts de la main (French)
Tied like the fingers of a hand
Come culo e camicia (Italian)
Like butocks and shirt
Ser unha e carne (Portuguese)
To be fingernail and flesh
A fi prieteni la cataramă (Romanian)
To be very good friends
Vodoi ne razol'yosh (Russian)
You can't separate them with water
Hustý ako hmla (Slovak)
As thick as a fog
Ser como uña y carne (Spanish)
To be fingernail and flesh
Aralarindan su sizmaz (Turkish)
Not even water can pass between them
Като дупе и гащи (Kato dupe i gashti). (Bulgarian)
Like buttocks and underwear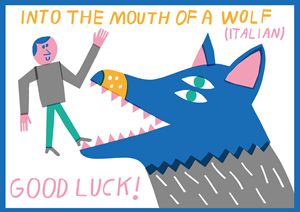 SOMETHING IS ROTTEN IN THE STATE OF DENMARK
Kauppaan on koira haudattuna. (Finnish)
There is a dog buried in the affair.
Les dés sont pipés. (French)
The dice are cheated.
Il y a anguille sous roche. (French)
There is an eel under the rock.
Hay un gato encerrado. (Spanish)
There's a cat shut up.
Å ha skjeletter i skapet (Norwegian)
To have skeletons in the cupboard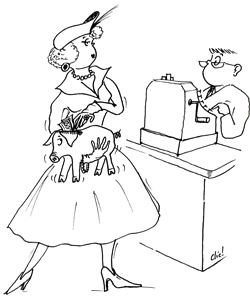 BEGGARS CAN'T BE CHOOSERS
Faute de grives, on mange des merles. (French)
When there's lack of thrushes, one eats blackbirds.
In der Not frisst der Teufel fliegen. (German)
In times of need, the devil eats flies.
Calul de dar nu se caută la dinți. (Romanian)
Don't look a gift horse in the mouth.
Stin anavrochia kalo kai to chalazi (Greek)
In times of drought, hale is fine
TO GIVE UP THE GHOST
rhoi'r ffidl yn y to (Welsh)
To put the fiddle in the roof
WHO PAYS THE PIPER CALLS THE TUNE
Qui paga mana (Catalan)
He/she who pays dictates what he/she wants
Cine plăteşte, porunceşte. (Romanian)
He who pays gives the orders.
A BIRD IN THE HAND IS WORTH TWO IN THE BUSH
Kalio ena kai sto cheri para dyo kai karteri (Greek)
It's better to have one in your hand than wait for two
Подобро врапче во рака отколку гулаб на гранка. (Podobro vrapce vo raka otkolku gulab na granka. (Macedonian)
Better sparrow in hand than dove on the branch.
Un tiens vaut mieux que deux tu l'auras (French)
I give you one now is better than I will give you two late
Tongue twisters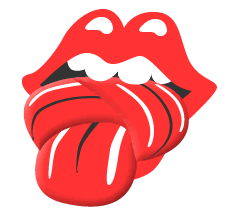 From 'Around the rugged rock, the ragged rascal ran' to 'red leather, yellow leather', one aspect of mastering a language is being able to master its tongue twisters. They are always decidedly odd sentences:
Combien de sous sont ces saucissons-ci? Ces saucissons-ci sont six sous (French): "How much are these sausages here? These sausages here are six cents".
Zwei schwarze schleimige Schlangen sitzen zwischen zwei spitzen Steinen und zischen (German): "Two black slimy snakes sit between two pointed stones and hiss".
Other favourites in the European arena include:
Měla babka v kapse brabce, brabec babce v kapse píp. Zmáčkla babka brabce v kapse, brabec babce v kapse chcíp (Czech): "Grandma had a sparrow in her pocket and the sparrow made a sound. Grandma pressed the sparrow and it died".
Als vliegen achter vliegen vliegen, vliegen vliegen vliegensvlug (Dutch): "If flies fly behind flies, flies will fly like lightning".
Król Karol kupił Królowej Karolinie korale koloru koralowego (Polish): "King Karl bought Queen Caroline coral-colored bead".
Far, Får får får? Nej, inte får får får, får får lamm (Swedish): "Father, do sheep have sheep? No, sheep don't have sheep, sheep have lambs".
W Szczebrzeszynie chrząszcz brzmi w trzcinie (Polish): "In the town of Szczebrzeszyn a beetle buzzes in the reeds".As for the English language, we are provided with the following:
How much wood would a woodchuck chuck if a woodchuck could chuck wood? A woodchuck would chuck all the wood that he could if a woodchuck could chuck wood
Sister Sue sells sea shells. She sells sea shells on shore. The shells she sells. Are sea shells she sees. Sure she sees shells she sells
You've known me to light a night light on a light night like tonight. There's no need to light a night light on a light night like tonight, for a night light's a slight light on tonight's light night
Some short words or phrases 'become' tongue-twisters when repeated, a number of times fast (try it!):
Thin Thing
French Friend
Red Leather, Yellow Leathe
Unique New York
Sometimes Sunshine
Irish Wristwatch
Big Whip
Do you know an interesting tongue twister in your language? Let us know!
Unique words
In most languages you will find words that are unique to that language and/or culture.
Albanian
hundekuq: a bulbous nose, red at the tip
kacadre: a moustache with turned-up ends
vetullhen: an eyebrow arched like the crescent moon
pagezuar: the state of dying before enjoying the happiness that comes with being married or seeing one's children married
Bosnian
gunj: a vest worn by the shepherds during winter, made from sheep skin
Catalan
seny: a combination of well-pondered perception of situations, level-headedness, awareness, integrity and right action
coentor: it literally means "stinging" but it's used to describe something or someone provincial, gaudy, and wealthy at the same time
Croatian
pivopija: someone who likes to drink beer, literally "beer drinker"
Czech
prozvonit: to call someone's mobile from your own without the other person picking up with the intention of leaving your number in their phone's memory
Danish
hyggelig: its "literal" translation into English gives connotations of a warm, friendly, cozy demeanor
Dutch
gezellig: depending on context, can be translated as convivial, cosy, fun, quaint, or nice atmosphere, but can also connote belonging, time spent with loved ones, the fact of seeing a friend after a long absence, or general togetherness. The word is considered to be an example of untranslatability, and is one of the hardest words to translate to English.
broodje-aap: an awful, often invented story that is told as being true, thus becoming a myth. Literally: a monkey-meat sandwich
regelneef: a person who loves organizing even without being asked to
English
higgledy-piggledy: disordered, jumbled, not neat and tidy. According to Oxford Dictionary, probably used initially with reference to the disordered herding together of pigs
dilly-dally: to move or act too slowly
Estonian
koerailm: cat-and-dog weather; really bad weather
kalailm: good weather for fishing
Finnish
hiukaista: to feel hungry for something salty
poronkusema: the distance equal to how far a reindeer can travel without a comfort break (about 5 kilometres) (literally, reindeer's piss)
kuunsilta: the long reflection of the moon when it is low in the sky and shining on the calm surface of a lake (literally, moon bridge)
French
yaourt: English pop music sung without any understanding of the meaning; singing to create something that sounds like English pop music but actually isn't (literally, yoghurt)
metro-boulot-dodo: the daily grind (literally, 'tube-work-sleep')
chabrot: to put red wine in your soup, when there is little soup left
Galician
morriña: longing of our homeland, Galicia, when we are away from it
Georgian
genatsvale: I appreciate you very much
German
Zechpreller: someone who leaves without paying the bill
Ohrwurm: a catchy tune that gets stuck in the brain or a tune that rapidly obsesses an entire population (literally, an ear worm)
Torschlusspanik: the fear of diminishing opportunities as one gets older, especially the fear of not having a relationship or becoming too old for a baby
Gemütlichkeit: feeling comfortable, like in one's home
Schadenfreude: pleasure derived by someone from another person's misfortune
Greek
kamáki: the young local guys strolling up and down beaches hunting for female tourists (literally, harpoons)
μάγκας/mangas is a young man who is very self-confident and behaving in a macho way but still being respected and even admired by others.
meraki: doing something with soul, creativity, or love: putting something of yourself into what you're doing
filotimo:the intense feeling of personal honour and dignity
Hungarian
csókolgat: to shower with kisses
verbunkos: a dance performed to persuade people to enlist in the army
Icelandic
eldhus-fifi (Old Icelandic): an idiot who sits all day by the fire
af-vegar (Old Icelandic): fallen on the back and unable to rise
féauðnu-maðr (Old Icelandic): a man lucky with his sheep
Irish
plubairnigh: a verb specifically used to describe that distinctive thick, bubbling sound that porridge makes when it is boiling. "Bhí an leite ag plubairnigh sa phota" ("The porridge was 'plubairnigh-ing' in the pot").
Italian
mammismo: maternal control and interference that continues into adulthood
abiocco: deriva dal verbo abioccare, abiocarsi, nella maggioranza dei casi definisce lo stato di sonnolenza, di affaticamento
Korean
사랑해 ~ Saranghae: "I Love You". "Sa-" means die; "Rang-" means together and "Hae" means doing. When say "Saranghae" to someone you mean "let's live until we die together."
Latvian
vientuliba: loneliness, solitude
Lithuanian
žlugtas: laundry which is watered before washing
brekšti: a verb which is used to describe a moment between the night and the dawn
rymoti: to lean on something (arms, fence, etc.) for some time
brukti: to suggest something in a very annoying and irksome way
davatka: a person who is too pious and likes to gossip
Norwegian
kram snø: snow which is sticky (excellent for making snow-balls and snowmen)
fiskevaer: good weather for fishing
sjøstygg: being so ugly that the tide won't come in, if you're on the shore (literally, sea ugly)
giftekniv: a person trying to get two people married
Pålegg: whatever you put on your bread or bagel
Portuguese
chico-esperto: used to describe someone who is smart enough to take advantage of situations even if damaging someone else's interests
saudade: homesickness, longing, missing, heartache, nostalgia
desenrascanço: capacity to get oneself out of trouble or one who is clever enough to improvise creative solutions to seemingly impossible situations. The closest English equivalents are the colloquial "hack"
compincha: someone who is always ready to join in a programmme of fun or drinks
Romanian
dor: a feeling of melancholy as a result of the desire to see someone or something you love
Russian
postrich' ochen korotko: to cut one's nails too short
deryabnut': to drink quickly in order to warm up
dakat': to keep saying yes
teplushka: heated goods van used for carrying people
obkurit'sya: to make oneself ill by excessive smoking
zalipat': stand at gaze
Serbian
inat: spite, defiance; when you do or don't do something (often to your detriment) just to prove someone else wrong
Slovak
prezvoniť: to call someone's mobile from your own without the other person picking up with the intention of leaving your number in their phone's memory
škodoradosť: pleasure derived by someone from another person's misfortune
Slovenian
Zlovešč: someone who predicts harm/evil
Krščen matiček: holly the little one
Spanish
chupotero: a person who works little but has several salaries
piropo: a compliment paid on the street (which ranges from polite to raunchy)
vergüenza ajena: feeling of shame on behalf of someone else
sobremesa: sitting on after a meal
malaje: saying about a person: disagreeable, that has bad (wrong) shade
jajajear: to laugh in a mocking way
repeío: a person who is very pompous and considers others in a lower level than him/her
tuerto: a person or thing with one eye
empalagoso: sickly sweet
Swedish
lappsjuka: a melancholy through being so isolated
fika: coffee-break or an overall word for buns and other snacks that you eat on coffee-breaks
lagom: not too little or not too big, just right
myrornas krig: when the television screen turns black and white (with spots) it looks like ants are having a war
mångata: the glimmering, roadlike reflection that the moon creates on water
Welsh
cwtch: an affectionate hug – provide a 'safe' place in someone's arms, a rather special one, blessed with the warmth and generosity of the Welsh, a truly free flowing expression of love and acceptance
Same word – different meaning
| | Word | Language 1 | Meaning | Language 2 | Meaning |
| --- | --- | --- | --- | --- | --- |
| | aloud | Dutch | ancient | English | aloud |
| | angel | Dutch | sting | English | angel |
| | angel | German | fishing rod | English | angel |
| | any | English | any | Catalan | year |
| | arm | Dutch | poor | English | arm |
| | bad | Dutch | bath | English | bad |
| | bank | Dutch | cough | English | bank |
| | barn | Swedish | children | English | barn |
| | bat | Polish | whip | English | bat |
| | beer | Dutch | bear | English | beer |
| | berros | Spanish | watercress | Portuguese | scream |
| | big | Dutch | baby pig | English | big |
| | blubber | Dutch | mud | English | blubber |
| | bra | Swedish | good | English | bra |
| | brand | Dutch | fire | English | brand |
| | brat | Slovak | brother | English | brat |
| | burro | Italian | butter | Spanish | donkey |
| | but | Polish | shoe | English | but |
| | cap | Romanian | head | English | cap |
| | car | French | because | English | car |
| | chariot | French | trolley | English | chariot |
| | chips | French | Crisps | English | chips / french fries |
| | dobro | Croation | good | Portuguese | double; twice |
| | door | Dutch | through | English | door |
| | elf | English | elf | German | eleven |
| | farmer | English | farmer | Hungarian | jeans |
| | fart | Swedish | speed | English | fart |
| | fart | Polish | good luck | English | fart |
| | fast | German | almost | English | quick |
| | Fisch – fiche | German | fish | French | sheet of paper |
| | flint | Swedish | bald head | English | flint |
| | four | French | oven | English | four |
| | gap | Swedish | mouth | English | gap |
| | gift | English | gift | German | poison |
| | gift | English | gift | Swedish | married |
| | gift | English | gift | Norwegian | poison |
| | gland | French | acorn | English | gland |
| | glass | Swedish | ice-cream | English | glass |
| | grad | German | degree | Bosnian | city |
| | gris | Spanish | grey | Swedish | pig |
| | helmet | Finnish | pearls | English | helmet |
| | home | Finnish | mould | English | home |
| | home | Catalan | man | English | home |
| | iki | Lithuanian | until | Turkish | two |
| | kaka | Icelandic | cake | Bulgarian | an older sister |
| | kind | Icelandic | sheep | German | child |
| | kiss | English | kiss | Swedish | pee |
| | largo | Portuguese | wide | Spanish | long |
| | list | Slovak | a leaf | English | list |
| | maize | Latvian | bread | English | corn |
| | mås | Swedish | seagull | Danish | buttocks |
| | matka | Czech | mother | Finnish | journey |
| | matto | Finnish | carpet | Italian | crazy |
| | otrok | Slovene | child | Slovak | slave |
| | pain | French | bread | English | pain |
| | panna | Polish | a single woman | Italian | cream |
| | panna | Finnish | put | Italian | cream |
| | pasta | Italian | noodles | Polish | toothpaste |
| | penner | Norwegian | pens | German | tramp |
| | plot | Czech | fence | English | plot |
| | prego | Italian | you're welcome | Portuguese | nail |
| | privet | Russian | hello (привет) | English | name for a plant (genus Ligustrum) |
| | rana | Spanish | frog | Bulgarian | wound |
| | rana | Romanian | wound | Spanish | frog |
| | rock | Swedish | coat | German | skirt |
| | roof | Dutch | robbery | English | roof |
| | rooster | Dutch | schedule | English | rooster |
| | rot (рот) | German | red | Russian | mouth |
| | rum | Swedish | room | English | rum |
| | sale | Italian | salt | English | sale |
| | sau | German | sow | Norwegian (Nynorsk) | sheep |
| | seis | Finnish | stop! | Spanish | six |
| | sky | Swedish | gravy | English | sky |
| | slim | Dutch | smart | English | slim |
| | stol (стол) | Russian | table | Bulgarian | chair |
| | sugar | Basque | flame | English | sugar |
| | sugar | Romanian | baby (0-12 months old) | English | sugar |
| | tak | Danish | Thank you | Polish | Yes |
| | tie | Finnish | way; road | English | tie |
| | tuna | Spanish | cactus | English | tuna |
| | tuna | Czech | ton (a unit of weight) | English | tuna |
| | vela | Spanish | candle | Italian | sail |
| | worst | Dutch | sausage | English | worst |
All the colours of the rainbow
Did you know that there are over 6900 languages spoken on a daily basis around the world today? Among these languages however, at least 20 share an interesting feature – when it comes to describing colour, they have distinct terms only for black, white, and red! With this in mind, it is heartening to know that in Europe our choice of words for colours extends far beyond the reach of only three colours, and they are also widely used to express moods, emotions and personal characteristics. We see them in idiomatic descriptions such as blue for tranquility, pink for love, green for the natural world. Equally, these notions can often be turned on their head and we can also feel 'a bit blue', 'see red' or even be 'green with envy'! The use of colours in our European languages is very symbolic and as a result gives rise to a rich and varied list of idioms.
Your suggestions are most welcome for further developing this resource!